Support for local NGOs, organising activities for children, implementing weekly workshops in the schools of Bangalore, sports meets and other such one-time events, come and have a peek at all the projects carried out by Sunshine for a School!
The support of local NGOs
Sunshine for a school works in close collaboration with Indian NGOs selected for their actions in favour of children and women in precarious situations, as well as the probity of their projects.
For these NGOs, we finance the elements that are essential to the implementation of their educational schemes: their teachers salaries, school and educational supplies… We make it a point to stay tuned to our partners feedback and needs on the field.
For the year 2019/ 2020 our partners in Bangalore are: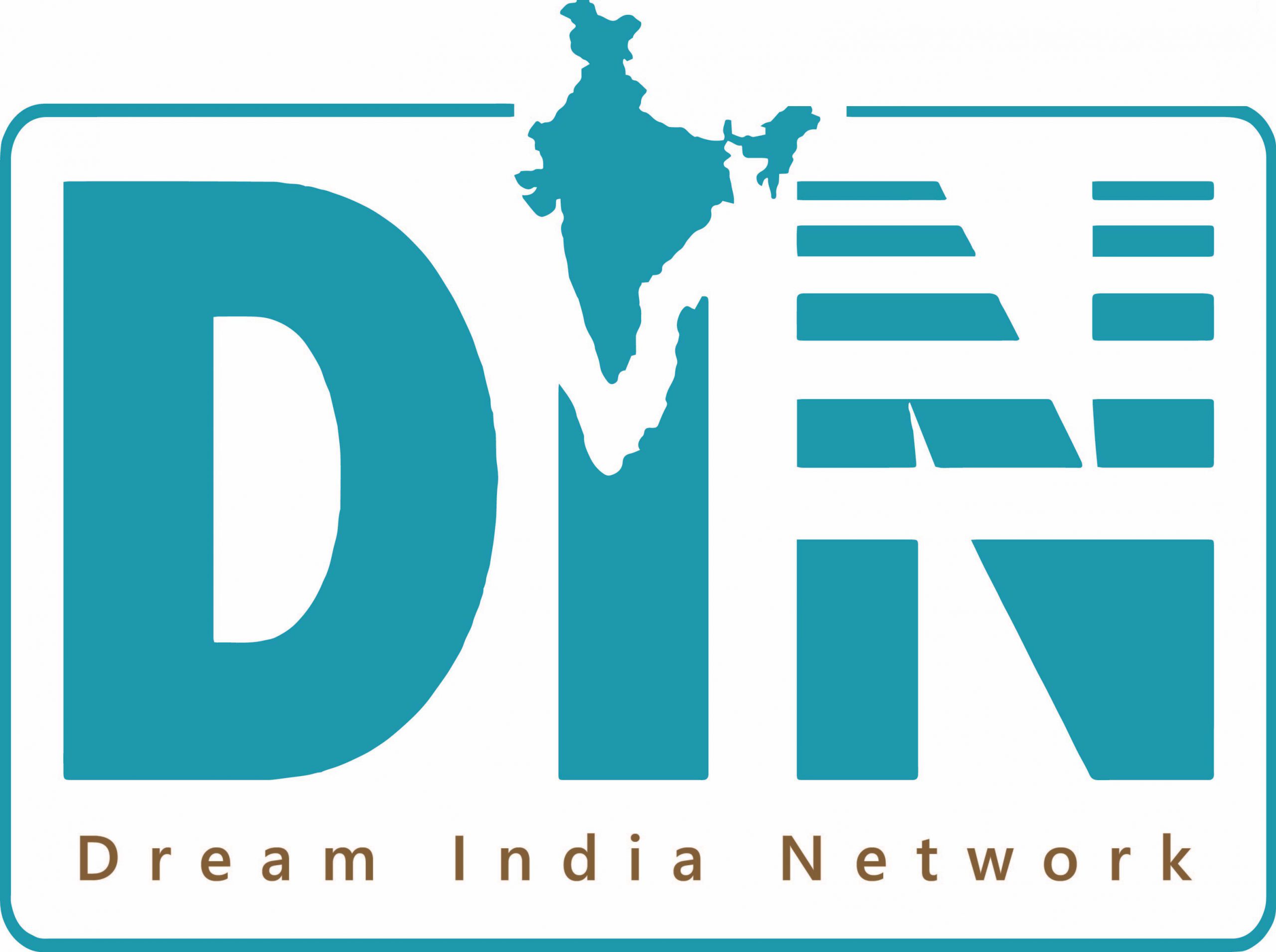 This NGO created and manages homes for 55 children with heavy social difficulties. It welcomes around 500 children between 6 to 14. It provides them with lodging, food and pays for their schooling.

.

This NGO created and manages 10 nursery schools welcoming a total of more than 700 young children coming from severely underprivileged backgrounds.
The children learn how to read, write, count, speak in English and follow a school program corresponding to their age group.
Food is provided throughout their study day (breakfast, snacks, lunch and afternoon snack).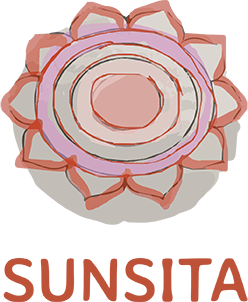 Sunsita is a human-sized NGO which manages a project of employability and self sufficiency for underprivileged women living in the village of Kangannahalli located 45 minutes away from Bangalore.
The NGO finances sewing courses for these women as well as sewing machines and a program of manufacturing accessories (cases, bathrobes, dresses…).
Selling these items allow the workers to be self-sufficient. The NGO also financed the creation of 3 drinkable water points for the village, solar panels, renovation of the village school (primary and nursery school), English classes for the children…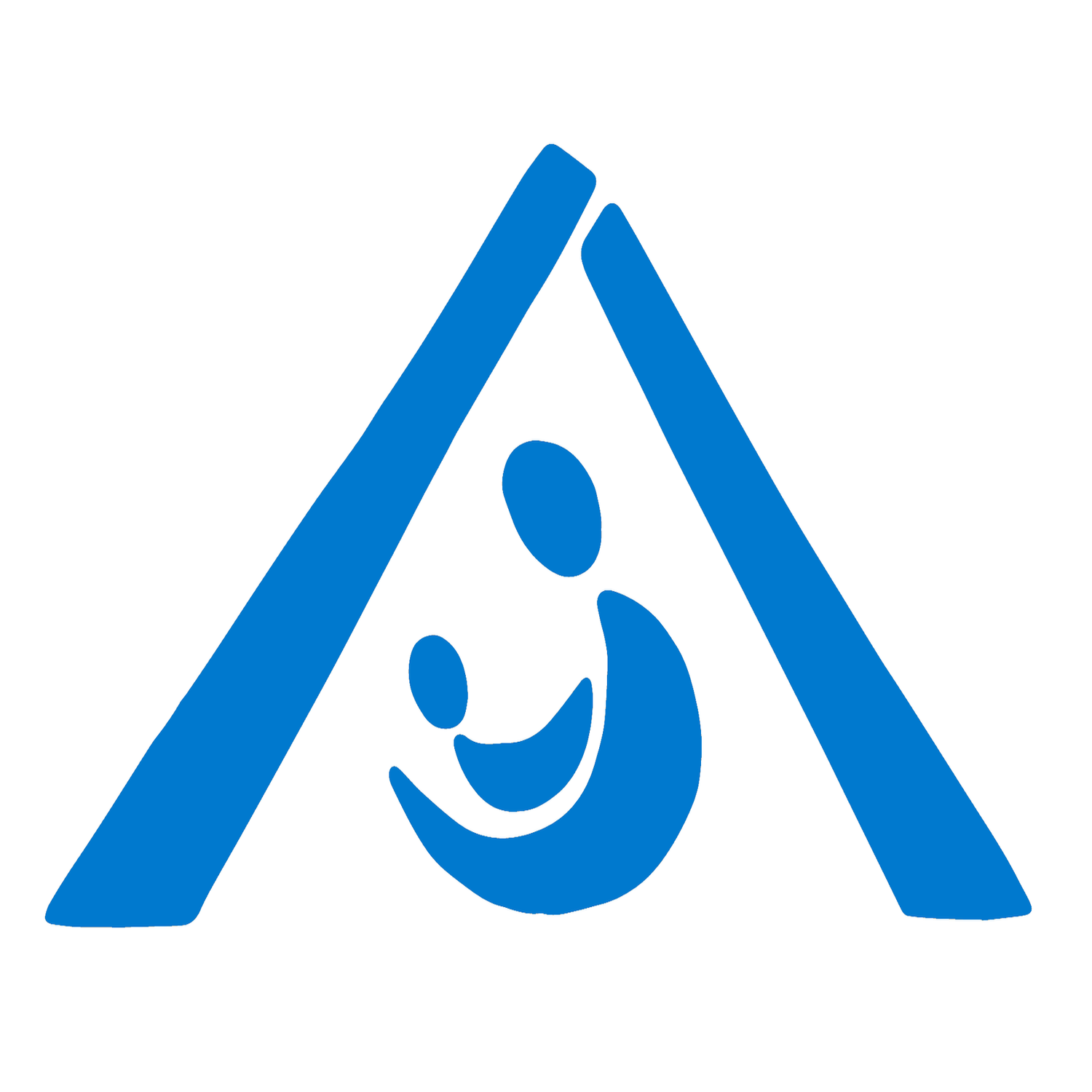 In 2018, this recent NGO created a tent shelter for children in a slum in the south east of Bangalore bringing together more than 350 families.
After a storm had destroyed part of the camp in May 2019, the association decided to create a nursery school in an apartment located 500 meters from the slum.
Since July 2019, the school has welcomed 35 children from 3 to 6 years old.
The activites organization
for the children
2019/2020
Every week, volunteers work in 3 nursery schools of our partner Building Blocks and in a home for young girls of our partner Dream India Network. Sunshine also organizes or participates in one-off events linked to special occasions.
Weekly interventions with Building Blocks
Our teams work in Daisy, Freesia and Gardenia.
Collaborating with the educational team, our volunteers offer manual and artistic activities directly linked to school programs.
The aim is to provide children with a different and recreational time during which they can also acquire new skills (cutting, pasting, colouring, counting, imagining…)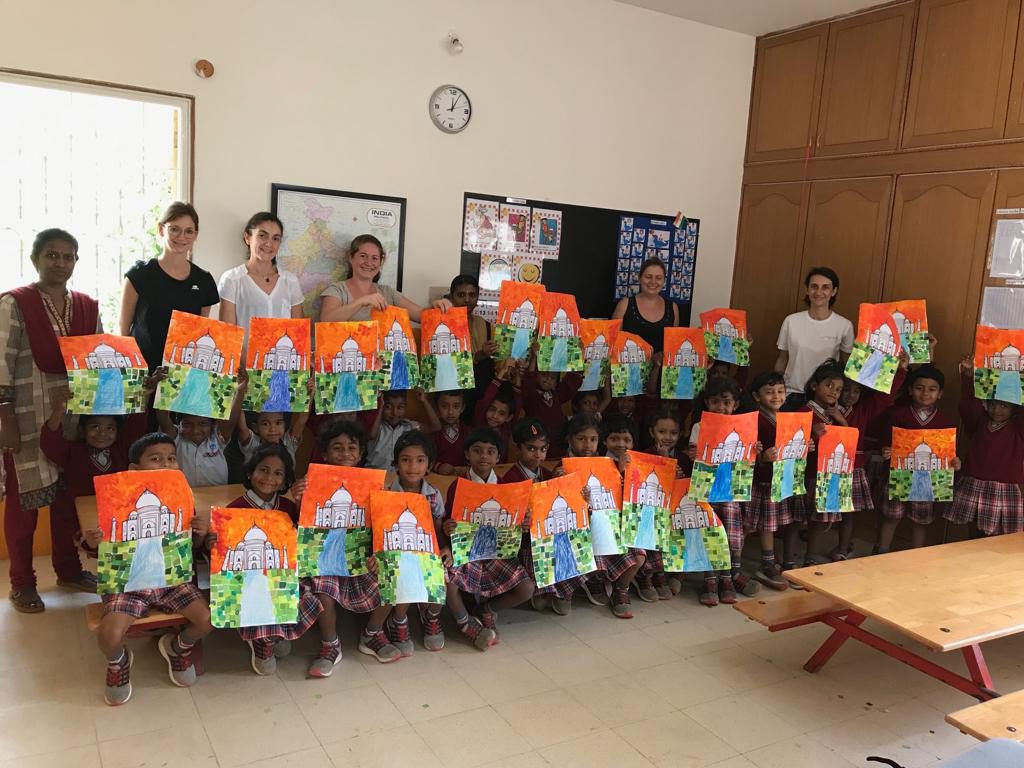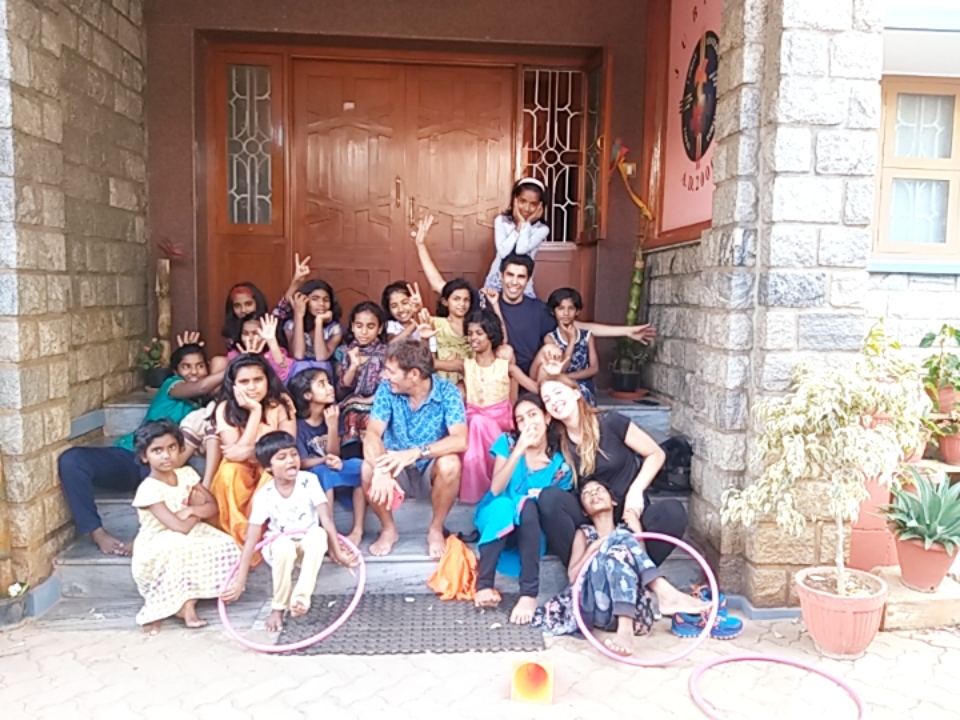 Weekly interventions with Dream India Network

Every Saturday, two devoted volunteers offer sports activities to young girls living in shelters.
Thus making the passing of the week more enjoyable for these young people with happy moments of games and relaxation.
CHRISTMAS with DIN
Over the past years, Sunshine has participated in the major Christmas feast, organised by the association DIN, for all the children of their homes (circa 500).
It is the perfect opportunity for the children to write up a Christmas list, asking for their heart's greatest wish. Sunshine then plays the part and offers the children their presents, along with a snack on Christmas celebration day.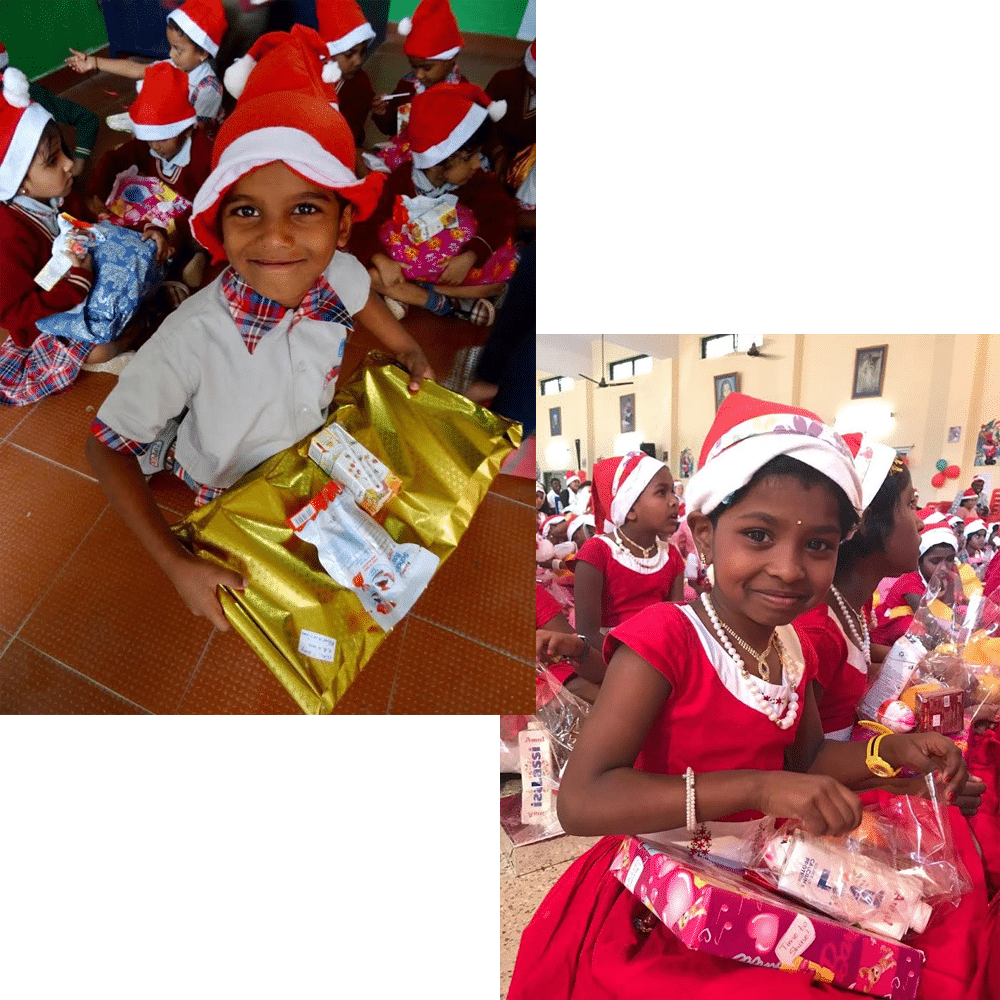 SUMMER CAMP with DIN
During the summer holidays (March and April in India), on several occasions, Sunshine organized workshops in some DIN homes to to offer entertainment to children who cannot join their families during the holidays.
Over a week, volunteers organize daily creative or sports workshops to bring joy / happiness and cheerfulness to this period when children can easily get bored.
Children's Day
In 2019, the Sunshine teams who worked in the nursery schools of our partner Building Blocks created tailor-made costumes for the show which was performed by the children for the celebration of Children's Day.
Overview of actions carried out

by Sunshine
1| French vounteers worked in a school of 80 children, in Azim Premji, located in Windmills
2 | Foundation of Sunshine for a school in March 2013
3 | Fund-raising Bake sale
4 | Purchase of first-aid kits
5 | Designing of a 2013 Calendar
1 | 2nd team of volunteers at the Azim Premji school
2 | Reinstatement of the daycare facility in Windmills
3 | Launch of sponsorship campaign
4 | Fund-raising Bake sale
5| Purchase of handshowers for sanitation facilities
6 | Finance of school and sports supplies
7 | Finance of uniforms for children who attend the public school.
1 | Water filters delivered at the school in Windmills
2 | Purchase of first-aid kits
3 | Fund-raising Bake sale
4 | Purchase of storage cabinets and educational supplies linked to sports and music
5 | Christmas workshops and sales of Christmas crafts
1 |Funding of volunteer work in the schools of Azim Premjim and Building Blocks
2 | Setting up and funding of educational events (i.e. Annual day, Olympic day, Christmas celebration day)
3 | New partnership with two of Building Blocks schools (Daisy and Gardenia)
4 | Funding of two teachers salaries of Gardenia school
5 | Volunteer work on Fridays and Saturdays
6 | Special support to a little girl with psychomotricity issues due to meningitis
7 | Christmas handcrafts and culinary workshops
8 | Design and sales of calendars
9 | Participation in TISB Family Fun Day event
10 | Setup of Sunshine's Facebook page
11 | Meetings with new NOGOs: Anu, Vidya, LDSG foundation
1 | Training workshop within the association Vidya. Jam-making and sales training for 8 underpriviledged women
2 | Cultural project with our NGO partners, based on Saint Exupéry's piece of work "Le Petit Prince"
3 | Promoting the "Art for All", concept with "Dessine-moi un éléphant"
4 | Support for the activities of all 4 volunteer teams in the schools
5 | Publishing of the Gayatri book highlighting the migrants living conditions in India (workers' livelihood on construction worksites in Bangalore)
6 | Opening of a 3rd class in Gardenia school, funding of 3 teachers salaries and school supplies
7 | Partnership with Michèle Bellocq to sell her products and receive the proceeds from the Bandlys auction sales
8 | Collection of 175 presents for DIN's Christmas celebration and donation of 175 snacks 9-Launch of the coordination programme for volunteers in the schools
1 | Creation of the project D'Une Femme @ l'Autre
2 | Collection of school supplies to be shared out on the first day of school for the children of DIN
3 | Birthday party for Sunshine
4 | 5 teams of volunteers manage the weekly activities at our partners' schools: Building Blocks, DIN, Azim Premji.
5 | Funding of 3 teachers salaries for Building Blocks
6 | Funding of a house for 16 little girls of DIN and purchase of a washing machine
7 | Funding of school supplies for a Vallombrosa school
8 | Lauch of the project Prevention and Hygiene rules workshops in the Building Blocks and DIN schools
9 | DIN's Christmas celebration: collection of presents and Christmas snacks for 280 children
10 | Christmas crafts and culinary goodies sold at Christmas fairs
11 | Team offering support and techincal training for the women of Vidya
12 | Development of new communication tools
1 | Funding of an outing to the zoo for Gardenia and Daisy schools
2 | 1st Summer Camp for the children of DIN
3 | "Warmth for Christmas" campaign, collection of blankets for the slum in Windmills
4 | Charity evening event for Sunshine for a school
5 | Bake sale orders for gingerbread biscuits
6 | Jam sale of jams from Vidyia
7 | Mobile School project presentation
8 | Sales at Bandlys auctions thanks to D'une Femme @ l'Autre
9 | DIN's Christmas celebration party for 400 children
10 | Support for Sunsita: purchase of various supplies and 2 sewing machines
11 | Opening of a bank account in France to facilitate registrations and donations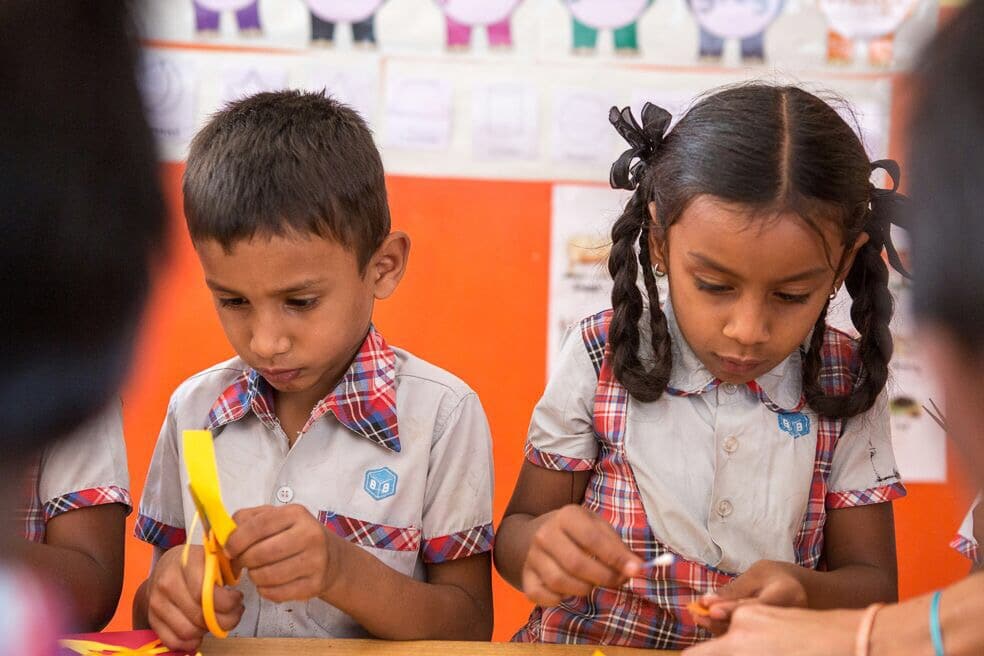 Giving a donation, becoming a volunteer or simply by being a member of our association will enable you to discover the different means to support our actions at Sunshine for a school!