The funding of the association comes from our members' donations, the sale of bandlys with the project "D'une femme à l'autre" and from occasional sales that the association organizes for Christmas for example.
To become a member of Sunshine or to make a donation, let us refer you to our dedicated pages.
The project « D'une femme à l'autre »
The bandly is a large shallow bowl which workers, mostly women, use on construction sites to carry and transport materials such as stones or cement. Michèle Bellocq, who lived several years in Bangalore, had the creative idea to collect these recipients and transform them into decorative objects in tribute to the workers she met.
After leaving Bangalore, Michèle Bellocq entrusted her idea to Peggy Lejeune, the president of Sunshine, and thus allowed the association to continue to sell these decorative items in order to raise funds.
The sale of these objects to individuals throughout the year and at trade fairs is the main source of income for the association.
The author Antonella Spring and the illustrators Anne Bigot and Sophie Le Croizier created the GAYATRI children's book which tells the story of a little girl living in a slum and whose parents are migrant workers.
They generously donated their work to Sunshine so that the association could sell the book to raise funds.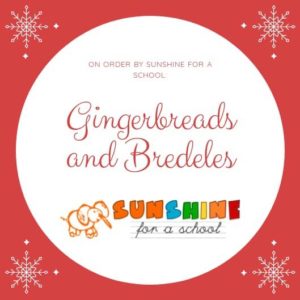 Before Christmas Sunshine members meet every year to bake delicacies (gingerbread, bredele…) which are sold during the various Christmas markets organized in Bangalore.
Please follow this link to make a direct donation on our French bank account, via the platform Hello Asso. If you are a French taxpayer, a receipt will be automatically issued to you for tax deduction.
Should you wish to give a donation in cash, please contact us directly at sunshineforaschool@gmail.com. Our sincere thanks!